News
Flick through The Reenactment

When I graduated from art school ( a century or two ago) I was warned by the jury: your work is good (thank you) but what is it? Is it poetry? Illustration? Graphic novel? Is it for adults? For teenagers? What is it? They thought I'd better pick one of these things and stick with it so that publishers and book sellers would know where to put it on the shelf.
Being a good student (mostly) I tried. But of course I couldn't.
My work is all of these things and more and none. And that's how I like it.
In truth I can never just tick the one box in any given thing. Not sticking to one box is a big part of who I am: a box escaper, a multi ticker, a multi directional wanderer!
This inability to shrink myself into just the one thing is now happily obvious in all my books, and particularly in this one (maybe because it's big!).
So I hope you'll like my book in everything that it's not 'supposed' to be: an illustrated novel for adults and youngsters/ a quiet and surreal adventure/ is it a graphic novel with a lot of text? / or a novel with a lot of images? / it's got a hero outside the binaries (that's allowed now) but the story isn't about that at all. So that's tricky. Is it activism? No..
Is it educational? No..
And what's the message?
You're free to decide on that yourself.
It's just a big story. I hope you'll like it.
---
The Reenactment is here!

Big news: A box with the printed copies of my book arrived today!
the Reenactment is there!
I can't quite believe it. After years of dreaming, writing, editing, re-writing, drawing, painting (and even a bit of calligraphy), it's finished and printed.
The Reenactment is an illustrated story for adults and young adults from 11+. It is an A4, 60 pages-long book. Each double page spread is illustrated with colour illustrations in gouache, digitally printed.
The book is, of course, all written and illustrated by me. I received some funding from Creative Scotland and Fédération Wallonie Bruxelles Culture to write it.
The story takes place in the territory of a medieval Reenactment: a place where a highly industrialised country keeps its past alive.
The Reenactment is also a televised show and young participants take part in order to gain exposure and land media jobs.
This story follows Beauregard, a reluctant participant who comes from a family of glorious knights and successful property developers. Beauregard wants to escape the spotlight and pretends to be looking for the Holy Grail in order to disappear in the remotest corner of the Reenactment.
That fake quest will force Beauregard to get involved in the strange events of the deep Reenactment.
I won't say more.. no spoilers! The story takes a few twists and turns, like an old forest path.
You can now already get your copy in my shop!
I'll also be at the Though Bubble festival next weekend in Harrogate, where the book will have it's first outing on our table. Come and say hi if you're in the area!
I'll also take part in the Illustrators Market in Granary Square (Kings Cross) London on the 9th December. I hope I'll see some of you there!
---
So many news!

I'm really busy at the moment and I keep forgetting to update this section...Too many news I guess!
Here they finally are (but I might have forgotten a few)
-
Typewronger books
just received a full restock of my books! If there's anything you want and you're in the UK, just run there (or ask for a wee parcel from them). If you've never been to Typewronger, just go and have a look: it's the best and friendliest bookshop! and well worth a trip to Edinburgh
-New book! I finally finished 'I had a friend at the edge of the world'. All riso printed, all made in the studio. I haven't put them all together yet, which is why they're not in the online shop yet. But I'll have a few with me at fairs from now on...
-We were with Riso des bois at the Journées de l'artisan in Liège, hosted by
Le Cultivarium
. We were talking about all things riso and our practice. Tha was on the 9 and 10 september and it was great
-We'll be at Brocante de l'illustration, rue de la Tulipe, in Bruxelles, this Sunday (the 17th of September). For this amazing event organised by the collective Ton Piquant. A full day take over of the entire street by tons of illustrators for the car free sunday!
-We'll also be at Thought Bubble in November and Les Fugueurs du Livre in December but I'll tell you more about that closer to the time
-And Riso des bois will take part in Le Pitch café with Comptoir des Ressources Créatives in Liège, to talk about our project and convert the Liégeois public to riso
-Also, I made a few new prints that are now in the shop
-And there were a few changes to the
Patreon
that make it even better (I think), so don't hesitate to join...
That's all for now. Pfew! You're fully update now! See you at the end of the year fairs! I'll have plenty of new things to show you!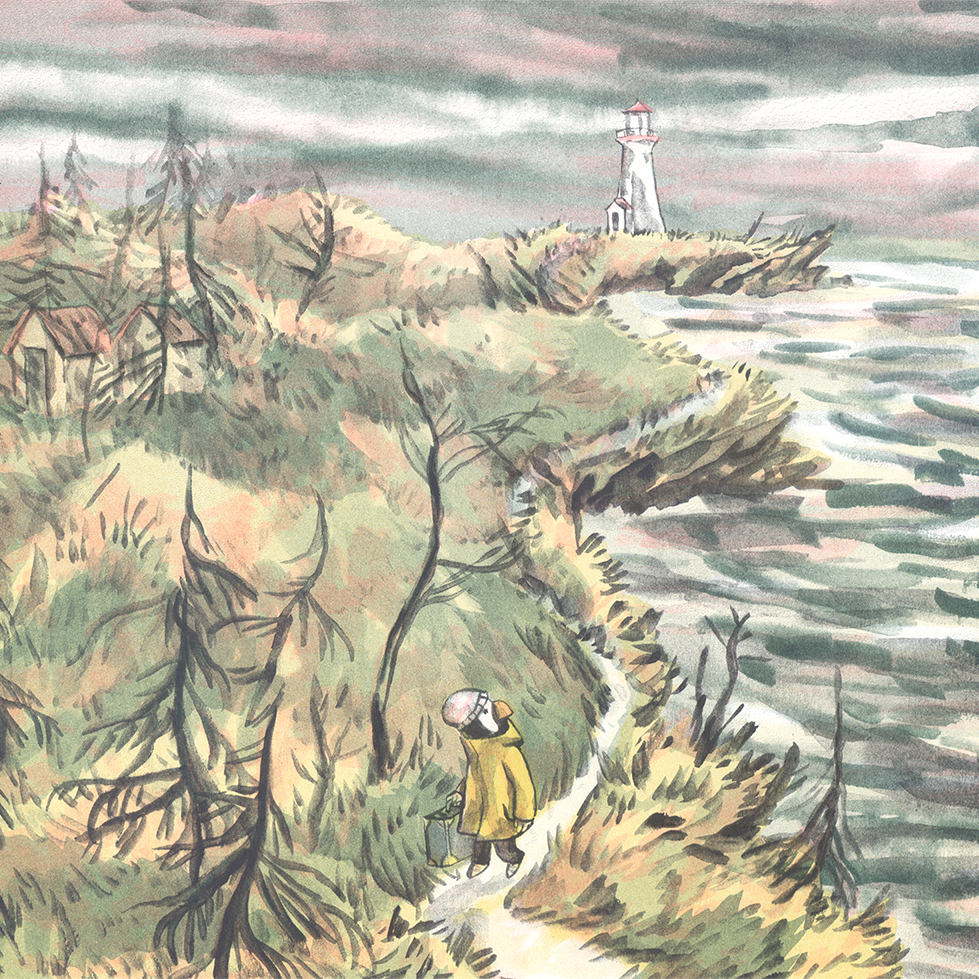 ---
Illustrators fair in London
I'll be sharing a table witht the fabulous
C.A.Hiley
at the Illustrators Fair in London, Granary Square (King's Cross) on Saturday the 8th of July. It's going to be a HUGE fair. Come and say hi!
We were also recently at the marché des créateurices in La Zone, Liège, Belgium, where this silly picture was taken.
More dates to come soon...
---
Riso des bois open for business

Our riso printing studio is now open for business: we can print other people's projects and ship them direct.
It's really exciting!
You'll find all the info on
risodesbois.com
don't hesitate to contact us!
---
Longlisted for the World Illustration Awards 2023 in the exploration category!
While the world illustration awards show from 2022 is still touring China, I'm super excited that my book 'hold tight' was just shortlisted for this year's WIA in the exploration category!
It's a book I made during my residency in Vesteraalen, Norway and I'm really fond of that project. Check out the other longlisted entries
here
, there are tons of amazing illustrations to discover in this year's longlist and I couldn't be happier to be part of it!
---
15% off all the prints in May!
Prints on my Big Cartel shop are all on sale!!
Get them here
︎
Don't forget to click on 'Products' to see everything in the shop: I just added a lot of screenprints, stone lithographs and cyanotypes. Some real rarities there along with more recent riso prints and books. Go fill up that cart! and use the code MAY at checkout!
---

World Illustration Awards 22 touring show in China
I'm delighted that my work is part of the WIA touring exhibition in China!
My book 'My brass band' will be shown in different venues across China alongside the other winning and highly commended entries of last year's awards.
The first show is now open at the Shenzhen Museum of Contemporary Art and Urban Planning (MoCAUP) from 18 March to 28 May 2023.
There will be abother exhibition in April in Nanchang
As far as I know, this is the furthest away my work has been so far! Have a look at the show
here
---
Fruitmarket BookMarket in Scotland & Fumetto festival in Switzerland:
A good way to get 2023 going!
Scotland and Switzerland, here we come!
I'll be sharing a table with
C.A.Hiley
, come and see us:
18 and 18 February
Fruitmarket Bookmarket
At the Fruitmarket Gallery
Market street, Edinburgh Scotland
18 and 19 March
Fumetto Festival

Small press heaven
Rössligasse 126004
Luzern, Switzerland
We can't wait to see you there!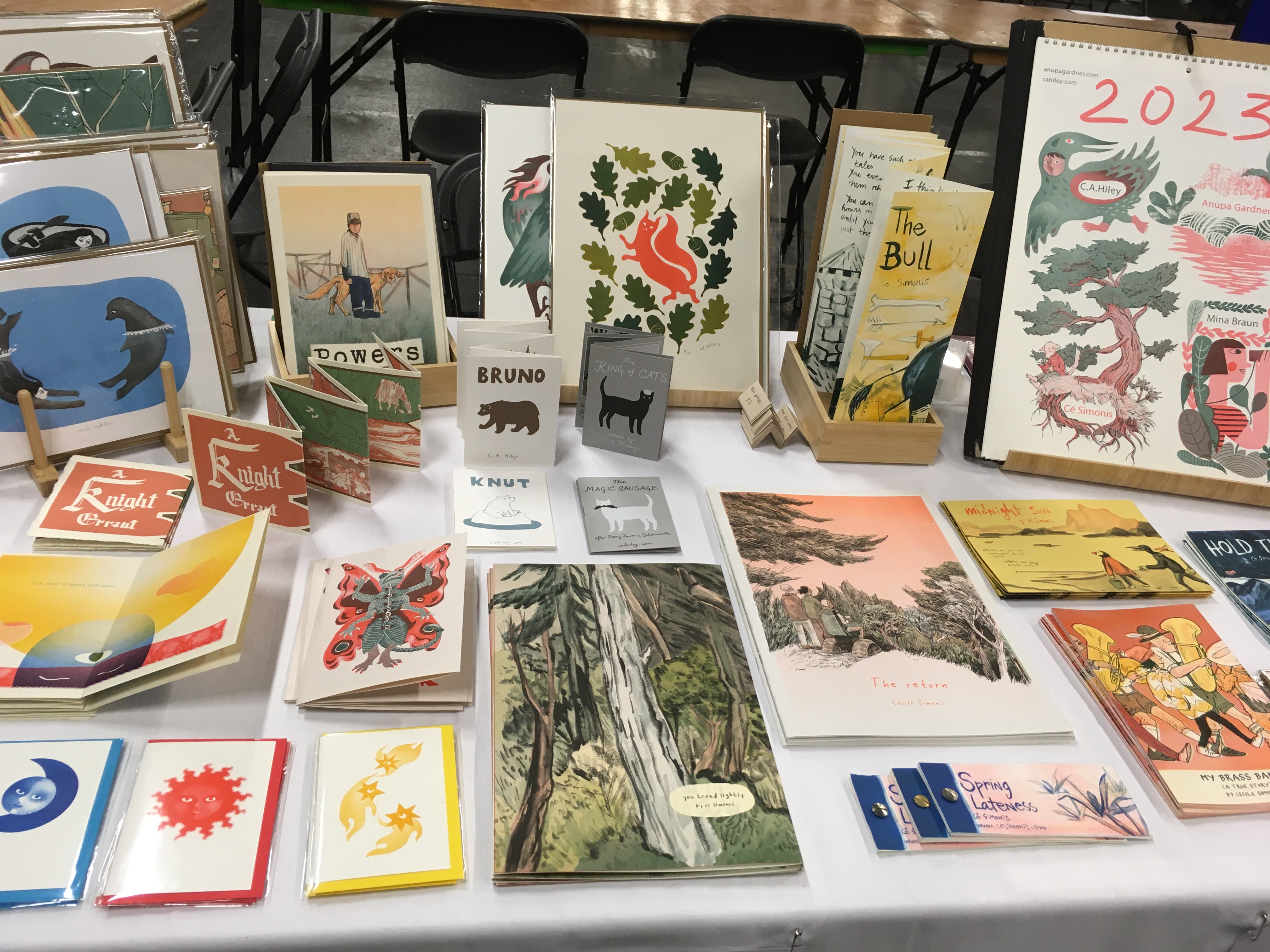 ---

Markets Markets Markets
I'm sharing a table with the brilliant
C.A.Hiley
at a ton of markets this season.
come and see us at:
12 & 13 November:
Thought Bubble Festival
in Harrogate, UK
18, 19, 20 November:
ArtBook Berlin,
Germany (with
Mina Braun
too)
2, 3, 4 December:
Mauvais Caractère, Bonnes Résolutions
:
illustration and indie book fair in Bruxelles, Belgium
(72 rue Coenraets 1060 Saint-Gilles)
10, 11 December:
Le Grand Marché de Noël by fais-le-toi-même
, Bruxelles, Belgium
(Quincaillerie Van Der Eycken, Rue du Viaduc 66, Ixelles 1050)
A great end to an amazing year! We'll be selling tons of books and prints, and the 2023 riso calendar we made with
Mina Braun
and
Anupa Gardner
. There are still a few copies left, come and snatch them!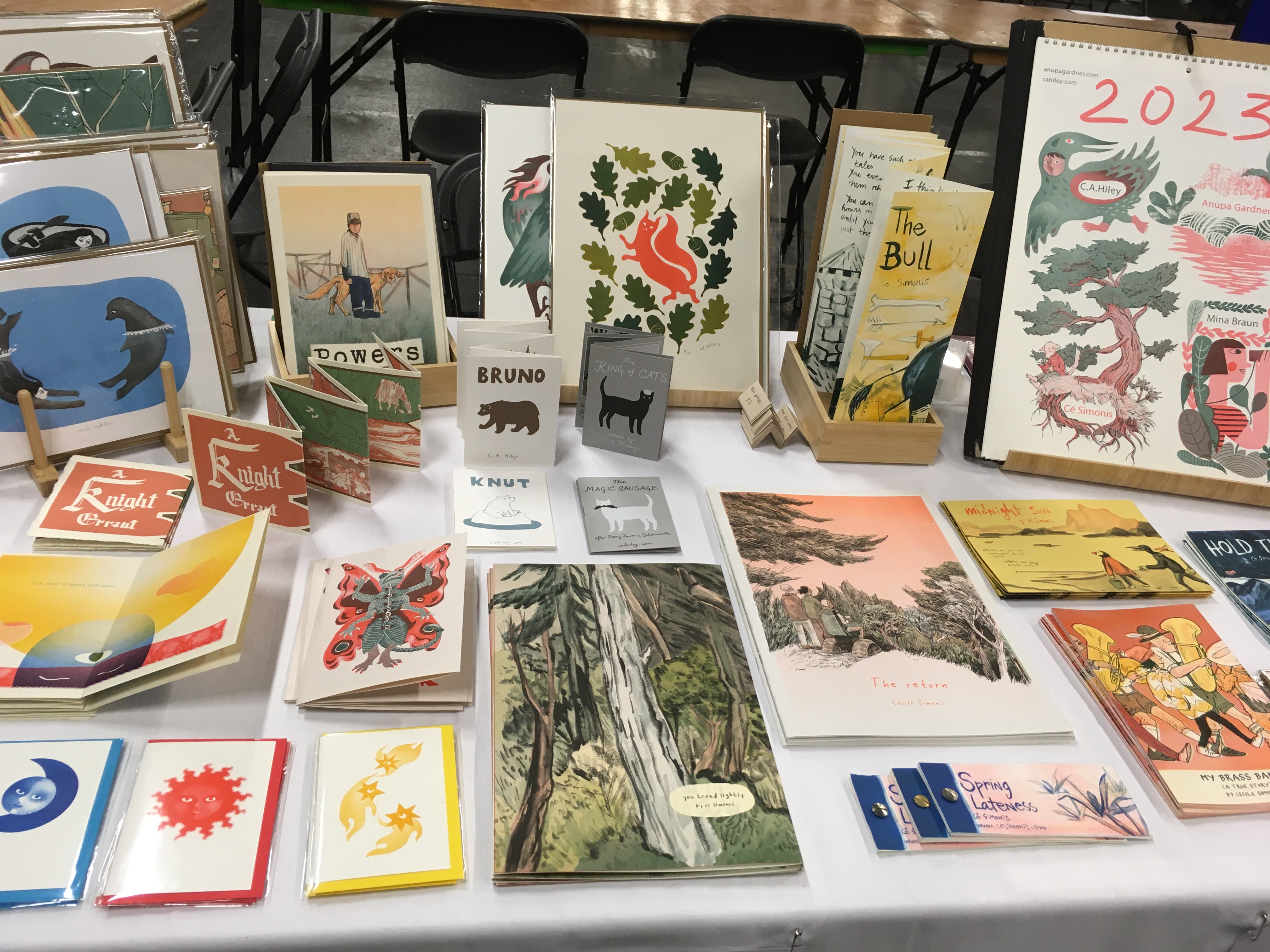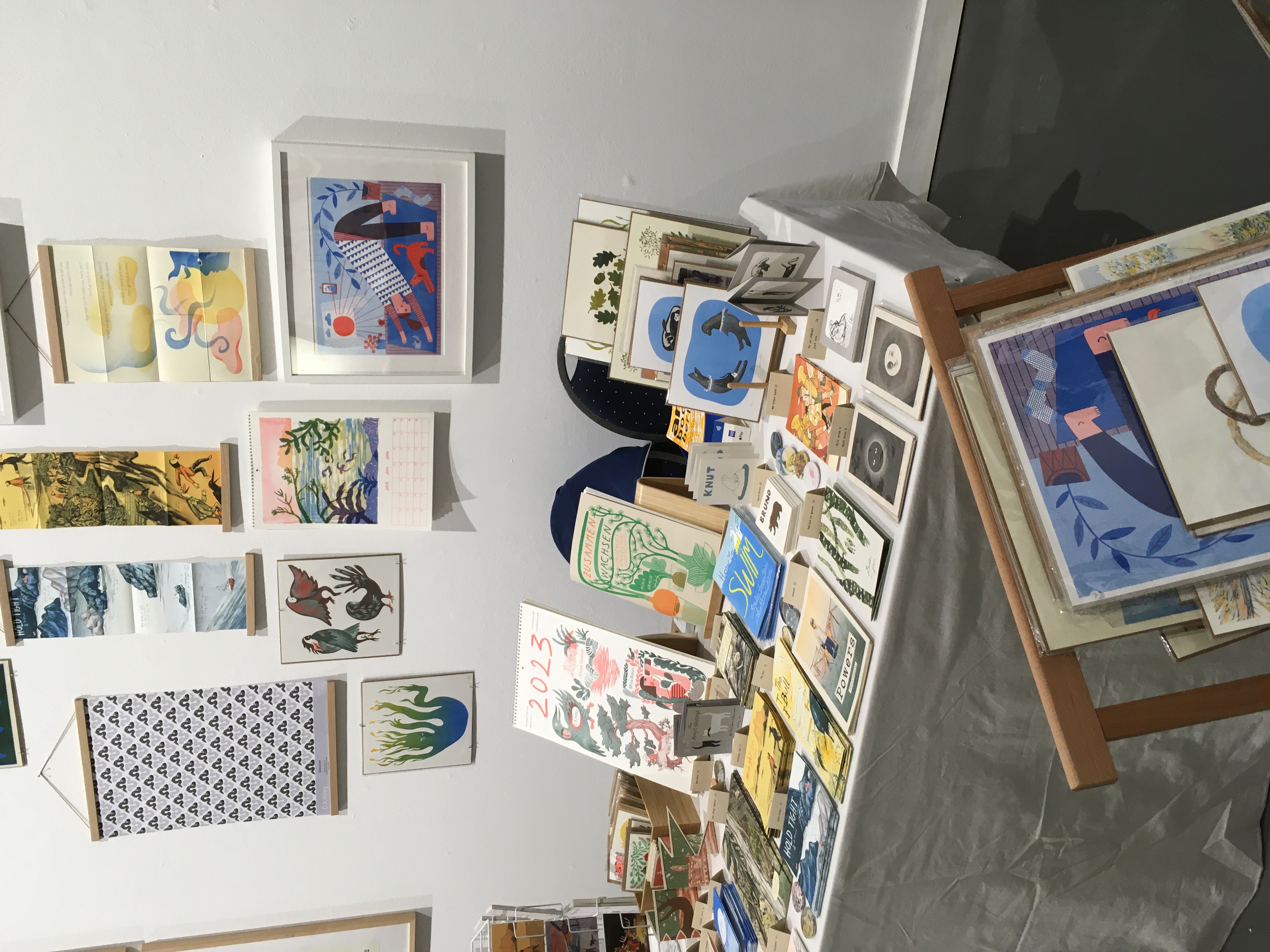 ---

World Illustration Awards: Highly Commended!
I'm delighted that the judges of the 2022 World Illustration Awards selected my work as the professional highly commended entry of the Alternative Publishing category!
It's really amazing to see my work highlighted like this, specially amongst such a brilliant and diverse shortlist.
Have a look at the highly commended and winning illustrations
here︎
---
New online shop!
how snazzy it looks!

Great news: I have a new online shop on Big Cartel
︎!
I will be selling bigger prints there (cyanotypes, screenprints, lithographs, ..) and I will rotate the prints on offer regularly.
This is your chance to get hand printed art work at a very reasonable price.
Plus, my patrons get 10% off all year around! (join the
Patreon here ︎
)
If you want to buy books, riso prints or anything you can't find in the shop, please contact me! I will arrange that directly with you and take payment via paypal.
---

World Illustration Awards: Shortlisted!
My Brass Band, my riso printed concertina book, has been shortlisted for the World Illustration Awards! I'm really really happy about this and I can't quite believe I have been shortlisted 2 years in a row.
Go and check all the other projects
here︎︎︎
. The WIA celebrate illustration worldwide, in all styles and categories. There are so many great projects represented there: I'm in extremely good company!
---
AiRV Artist in residence in Vesteraalen

I'm so happy to have been selected to be artist in residence in the Oksnes municipality in Vesteraalen, Norway. I spent ten days there in June and will go back in October. I'm making riso printed books inspired by my stay. there are so many stories there, I'm really excited to be working on that project.
---
Bologna Book Fair
I'm really looking forward to going to the Bologna Book Fair at the end of the months! I'm planning on looking at all the wonderful books published around the world but also meeting industry professionals there. If you would like to see me there, please get in touch!
---
Christmas Markets are back!
At
Out of the Blue
and
Summerhall
in Edinburgh, Scotland
I'll be sharing a table with C.A.Hiley at Out of the Blue and Summerhall for their Chirsmas Markets on the 4th and 5th of December.
We've been selected alongsite other local artists and makers of beautiful things.
It's so exciting to be back doing markets after 2 years!
If you can't go to the markets, Summerhall has also brought the makers together
online here︎
There's still time to get your local, indie gifts deliver before Christmas.
---
Cop 26 and scientific innovation

Have a look at the
University of Strathclyde Glasgow showcase
of climate innovation, as part of COP26.
I'm very happy to see 'The Return' featured there
︎︎︎
in the 'Behind the Science' category of the showcase and in the exhibition on site.
---
Broken Frontier review of 'Undomesticated'

Read Broken Frontier's lovely review of my comic 'Undomesticated'
here ︎
'...Work like Undomesticated is so intriguing because it's so bound in the near paradoxical – feeling intensely personal and specific and yet somehow also embodying universal truths and experiences that we can all recognise...'
Thank you, Andy Oliver dor that lovely review.
The book is available from my Etsy shop, shipping far and wide!
︎
---

World Illustration Awards Shortlist
I'm delighted to announce that my project
The Return
has been shortlisted for the World Illustration Awards 2021 in the Atlernative Publishing category.
The World Illustration Awards ︎︎︎
are presented by the Association of Illustrators, in partnership with the Directory of Illustration.
200 projects have been shortlisted by thejudges for the World Illustration Awards 2021.
The shortlist has been selected by the judges from over 5,280 entries from 82 countries following a rigorous and competitive judging process.
The Shortlist presents some of the most striking illustration work from around theworld. It is an important way for commissioners to discover quality illustrators to work with.
"The World Illustration Awards offer a brilliant platform to discover exciting new illustrators. The shortlist brings diverse talent from across the world together in one place. Illustrators at every career stage, from emerging to established are represented. The shortlist is a fantastic place to find global talentand in the face o frecent challenges, now more than ever, it's so important for the industry to connect illustrators with new clients and commissions."
–Ren Renwick, CEO, The AOI

The shortlisted 200 projects are included in an exciting, dynamic Online Showcase curated by the AOI's Awards Team, with contributions from partners and judges. Featuring interviews, work in context, showreels and sketches, the showcase is a celebration of great illustration and the stories behind the illustrations.
A printed catalogue featuring all 200 projectsis circulated to commissioners worldwide to further promote shortlisted entrants. This is also available for sale throughthe AOI.
All shortlisted projects are in contention to win, and on 12 October 2021, the Category Winning and Highly Commended projects in each category will be announced online in a live broadcast event. Two Overall Winners will receive cash prizes.
An online Celebration Programme of events and masterclasses will run throughout October and November, highlighting areas of current importance, including alternative routes into illustration, and exploring the importance of increasing diversity within the industry.
The World Illustration Awards is a year-long celebration and showcase of illustration, bringing together creatives, industry, commissioners and art directors, celebrating great illustration on a scale like never before.
---
Aquila magazine summer edition
The new Aquila magazine is out! It's on all things London and I was realy happy to illustrate an article on the magnificent menagerie that once was kept inside the Tower of London!
What a fun job to do.
---
World Illustration Awards Longlist

I'm delighted to have been selected in the World Illustration Awards Longlist in the Alternative Publishing category.
Check out the 500 longlisted projects chosen out of more than 5800
here ︎
.. and wish me luck for the shortlist!
---
Glasgow Zine Fest!

I'm sharing a virtual table at Clasgow Zine Fest with the great
C.A.Hiley
. Check it out
here ︎!
And here is our table presentation video (partly filmed by my mum-merci maman)!
We're excited to spend the month at the festival, with plenty of other wee books creators. Go check them out!
---
MsMenzies is getting ready...
I have recently said goodbye to my savings and bought a riso machine with the great
C.A.Hiley
. Our machine is called MsMenzies and is a beautiful MZ7010 with 3-soon 6 (!) colour drums. We are using the current lockdown and crazy year to follow a business course and getting MsMenzies ready to become a riso studio and zine/comic publisher. We're really exited about this and welcome all suggestions and thoughts. If you could spare 5mn to fill our survey and let us better understand you riso and zine publishing needs, we'd be very grateful. Here is the link:
https://docs.google.com/forms/d/e/1FAIpQLScvaTCvcOHpwd54zh2SWQiDAFPzuMRKp_g1_8QndQgTeyAWcQ/viewform?usp=sf_link
Long live MsMenzies!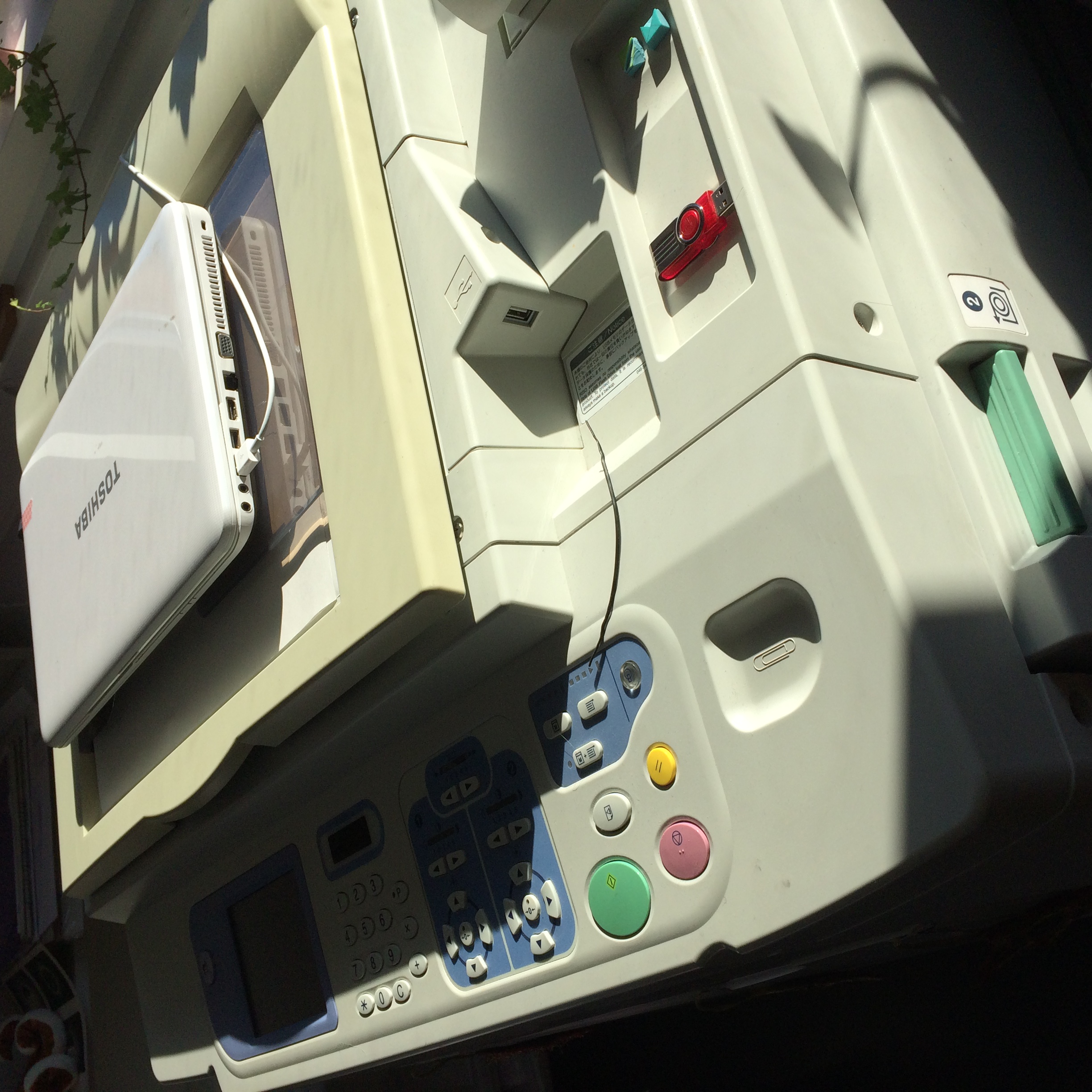 ---
New prints available on my Etsy shop
Go and have a browse: I'm currently restocking all sorts of affordable and easily postable things (it is the season after all)...
︎
---
My Etsy shop has reopened!
Go there to buy your copy of 'The return', a poster, a few zines and, very soon, all the badges you might need. Follow this link:
︎
I ship worldwide.
---
The exhibition is live & the poster is printed!
Discover the work of the 5 artists (including myself) who took part in the Space and Satellite Data residency at Inspace. Follow
this link
or go to the
'The return'
page of my website to read the full graphic short story.
The poster is now printed (Out of the Blueprint have done an amazing job as always). It will be available on my Etsy shop soon!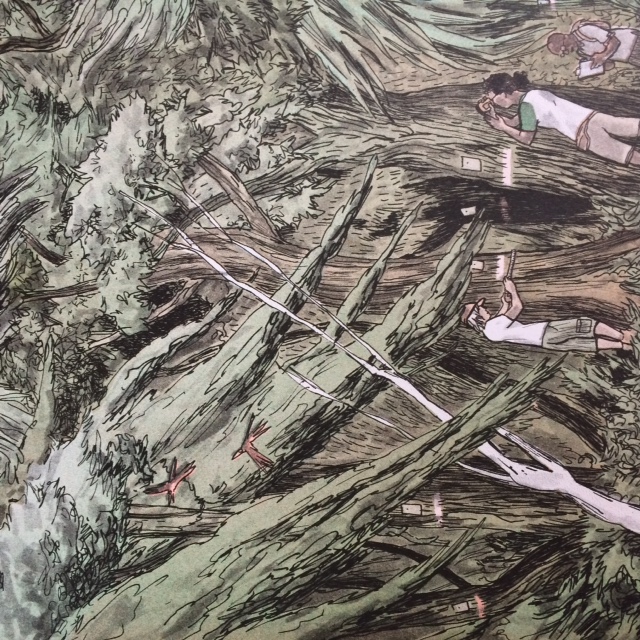 ---
Virtual Exhibition Launch for the Space and Satellites Artist Residency Programme for Inspace
Thu, 16 July 2020
17:30 – 18:30
Register via eventbrite following this link
︎
Please join us in raising a virtual glass to celebrate the work from our Artist-In-Residence Programme for Inspace. A group of 5 multi-disciplinary artists have been focussing on the theme of Space and Satellites data for the past 3 months. Artists were teamed up with scientists to make data visible highlighting changes on earth from the movement of Puffins to environmental changes through to the impact that the Coronavirus has had on our cities.
Speakers include: Dr Dave-Murray Rust, Director of Inspace; Caroline Parkinson DDI (Data-Driven Innovation); Juan Cruz Principal of ECA and Dr Murray Collins, Chancellor's Fellow in Data Driven Innovation: Space and Satellite Analysis. This will be followed by a the launch of artists work and tour of on-line gallery with a Q&A session with the artists.
Artists:Victoria Evans (contemporary artist and PhD researcher)
Elaine Ford (multidisciplinary artist and wildlife biologist)
Stacey Hunter (design curator) and Ben Hymers (Weaver and Rug Tufter)
Julia McGhee (dance artist), Geoff Robbins (science lab technician) and John McGeoch (multi-media artist)
Cécile Simonis (illustrator and visual artist)
Schedule:
5.30pm Welcome from Dr Dave-Murray Rust, Director of Inspace
5.35pm Caroline Parkinson introduction to DDI (Data-Driven Innovation)
5.40pm Prof Juan Cruz, Principal of ECA (Edinburgh College of Art)
5.50pm Dr Murray Collins on Space and Satellites work across Scotland
6.00pm Launch of Artists work and tour of on-line gallery
6.15pm Q&A session with the artists
6.30pm Close
---
Work in progress talk
Thursday 11 June 2020
16:00 – 17:00
Video link! You can now watch my talk online:
Cécile Simonis S+S WIP Webinar from Design Informatics on Vimeo.
---
Work in progress talk
Thursday 11 June 2020
16:00 – 17:00
Register to attend my online talk!
I will present the work I am making during my residency at Inspace, Centre for Design Informatics, Edinburgh University as part of the Space and Satellites Artist Residency programme. Funded by DDI (Data-Driven Innovation) and supported by EFI (Edinburgh Futures Institute).
I will be joined by Dr Keiko Nomura, a senior analysist from Edinburgh based Space Intelligence. The event is free, and registration is through Eventbrite.
Click here for more info and to book a ticket ︎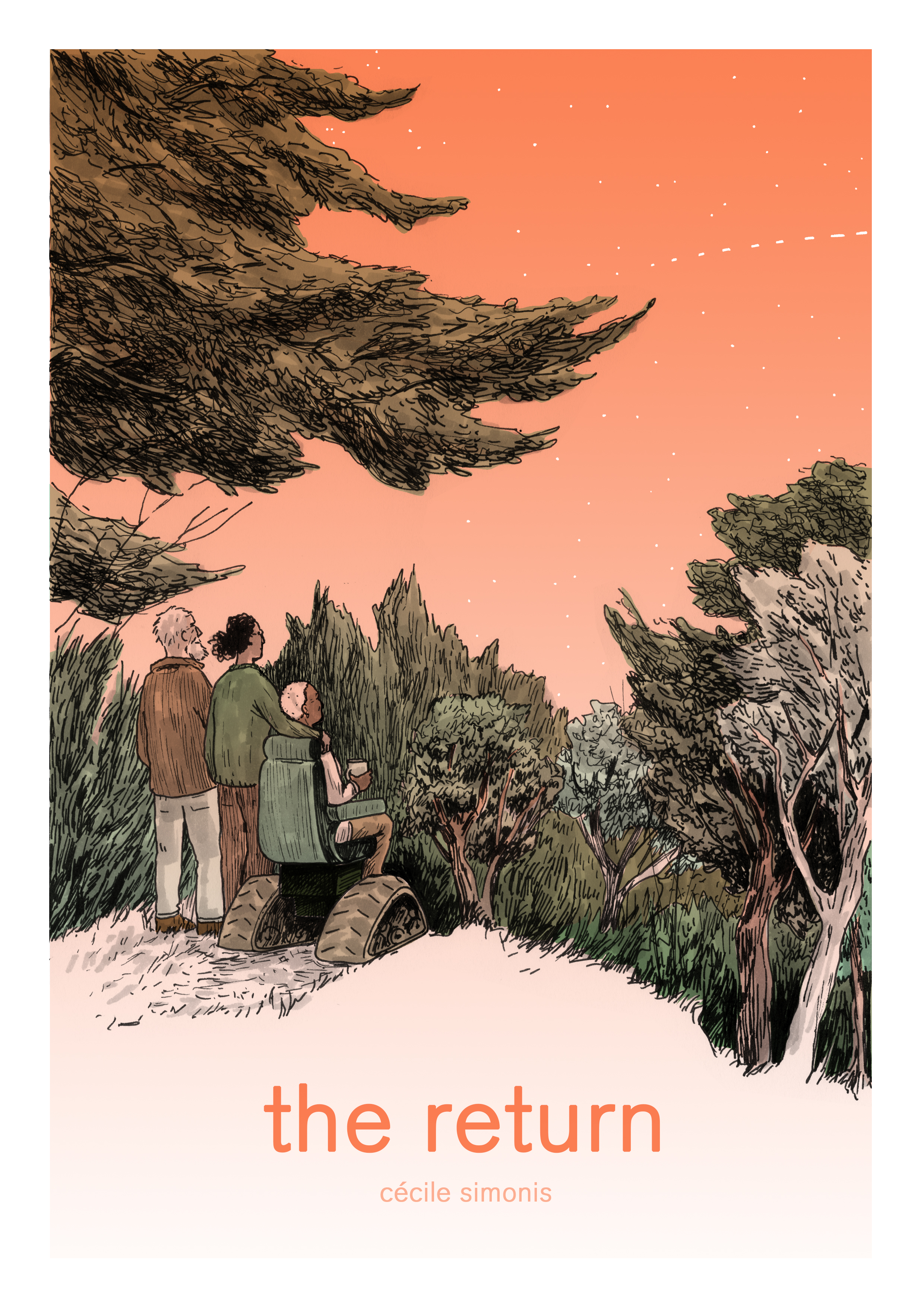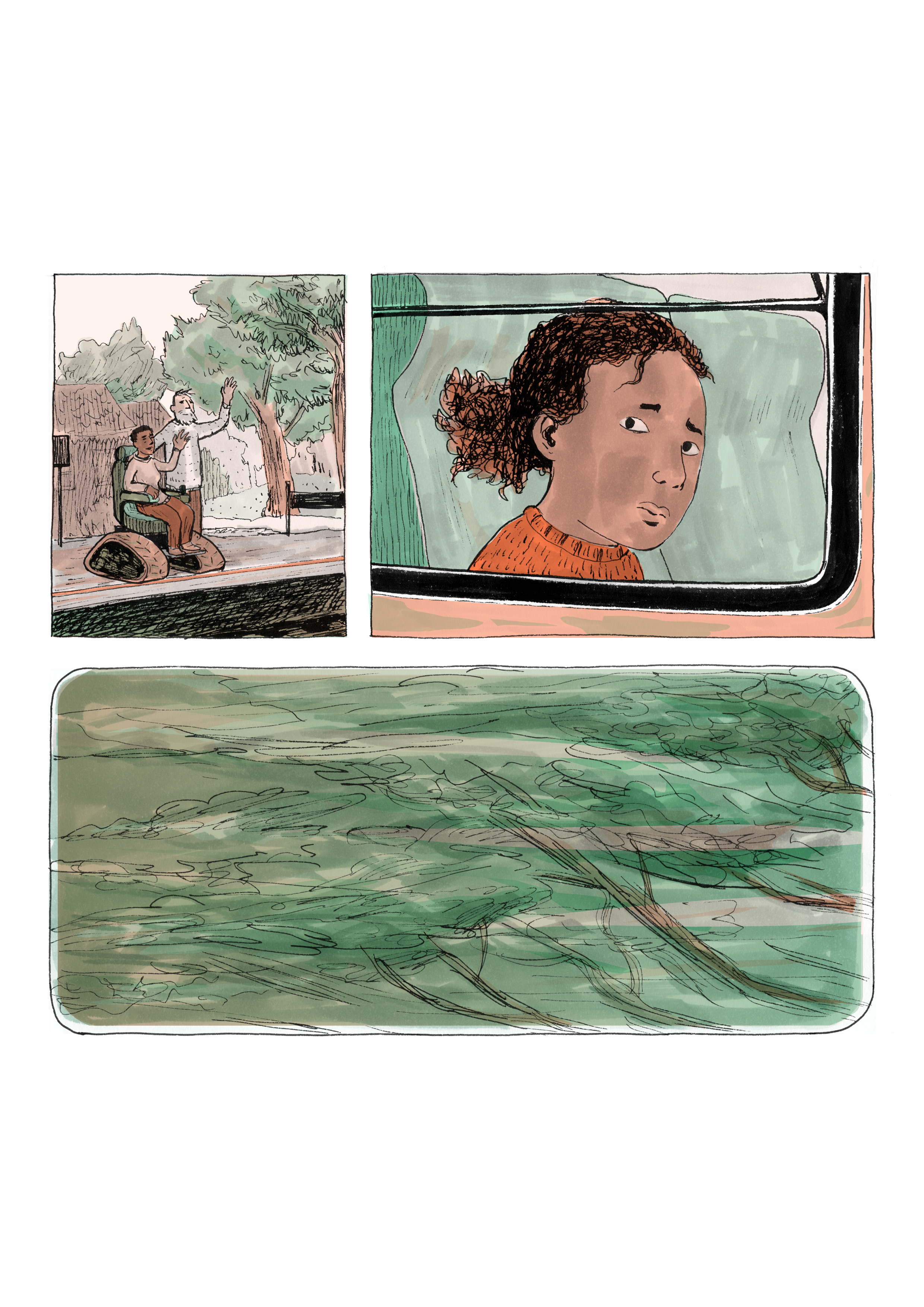 ---
Work on Satellite data

I am currently an artist in residence at Inspace with the Institute for Design Informatics (the University of Edinburgh) as part of the Space and Satellites Artist Residency programme. Funded by DDI (Data-Driven Innovation) and supported by EFI (Edinburgh Futures Institute). I'm learning a lot from scientists working in the field of biomass measuring and forest monitoring. Here is a poster that I've made. I will hopefully be able to have it riso printed soon. That will serve as colour test for the zine I am working on.
---
Inspace: Artist in Residence

I am currently an artist in residence at Inspace with the Institute for Design Informatics (the University of Edinburgh) as part of the Space and Satellites Artist Residency programme. Funded by DDI (Data-Driven Innovation) and supported by EFI (Edinburgh Futures Institute).
I'm delighted to have been selected as part of a group of 5 artists of very different disciplines to create work informed by satellite data.
I'm working on a zine and fictional narratives using satellite data as well as the science and processes behind the gathering of the data.
I'm really excited about the creative and learning opportunity this represents, and I'm getting nerdier by the minute!
The residency will last until mid July.
There will be work in progress and end of residency events (probably on line) that I will make sure to keep you informed on.
Here is a link to Design Informatics' website with more information on the residency.
https://www.designinformatics.org/research_project/inspace-artist-residencies/
The sketch shown here is my first (and celebratory) sketch of the residency. It shows Sentinel 2, a land observation satellite of the European Space Agency, rotating over our heads and taking pictures of the Earth's surface.
Don't hesitate to follow me on Instagram for more sketches and updates:
https://www.instagram.com/cecile.simonis/
And Design Informatics is on Twitter: @DesignInf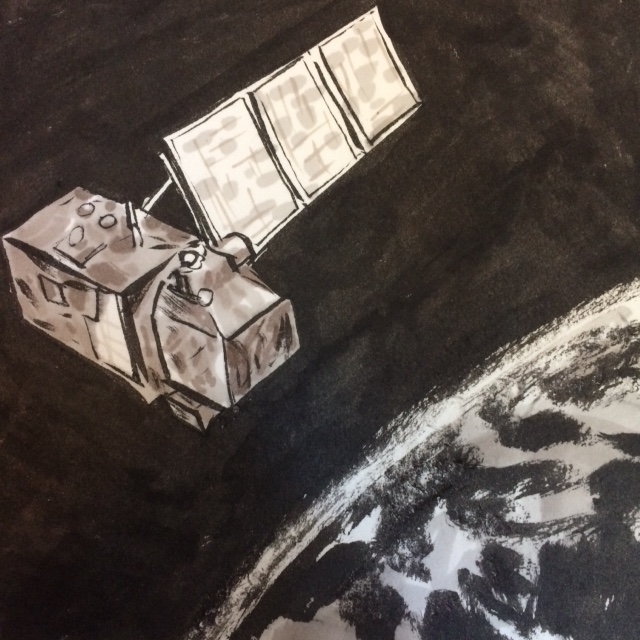 ---
I'm on Etsy!
I've just opened an Etsy shop called
Simonisaurus!
(of course..) I'm stocking it up at the moment. Go and have a browse!
You can now get your zines through your letter box if you're in seclusion - or live far away from windy Edinburgh.
I'm putting zines, small books and mini prints there.
Click here to have a look ︎
For those of you in isolation
, I can ship artwork worlwide (post permitting). Don't hesitate to be in touch if there is something you would like that isn't in my shop.
Typewronger books
has a few zines and books too, and a great selection of all sorts of books. He's my local bookshop and a great one to support. He delivers in Edinburgh and can post you books too.
---
New Stockist! Typewronger
The wonderful Tom at
Typewronger books
︎
just put a lot of my books on display in his shop. If you've never been, it is the best bookshop: full of books you've never seen, or books ou've always wanted! Very knowledgeable and welcoming staff. They organise tons of events and are a great place for the local community of our area or Elm Row/Leith in Edinburgh. They currently offer a lot of services (discounted delivery, advice, etc) to people staying home. In times of less contagion, I'd recommend to pop in: you'll get a cup of tea, a glass of wine,whatever you like, a great chat, brilliant books.There will always be a suprise for you there, and you'll always leave in an uplifted mood.
They also do specialist typewriters repairs and services.
I love this shop and I'm really happy my work is now in there!
Tom unwrapping my books!
---
Artists' Book Market this weekend
The Fruitmarket annual Artists' book Market takes place this weekend.
As their gallery space is currently being refurbished, the market will be at Customs Lane in Leith.
(1 Customs Wharf, Leith, Edinburgh, EH6 6AL). Open from 10 to 5 on the 7 and 8 March. Free entry.
Click
here
for more info and a list of participants.
I will be sharing a table with the wonderful Catherine Hiley who has just finished her epic Antarctic book 'The Winter Journey' (I remember her working on it back in 2012! The result is brilliant). Check out her website
here.
I have been busy making zines and experimenting with risograph printing and I am very excited to be at the market this weekend. Come and say hi!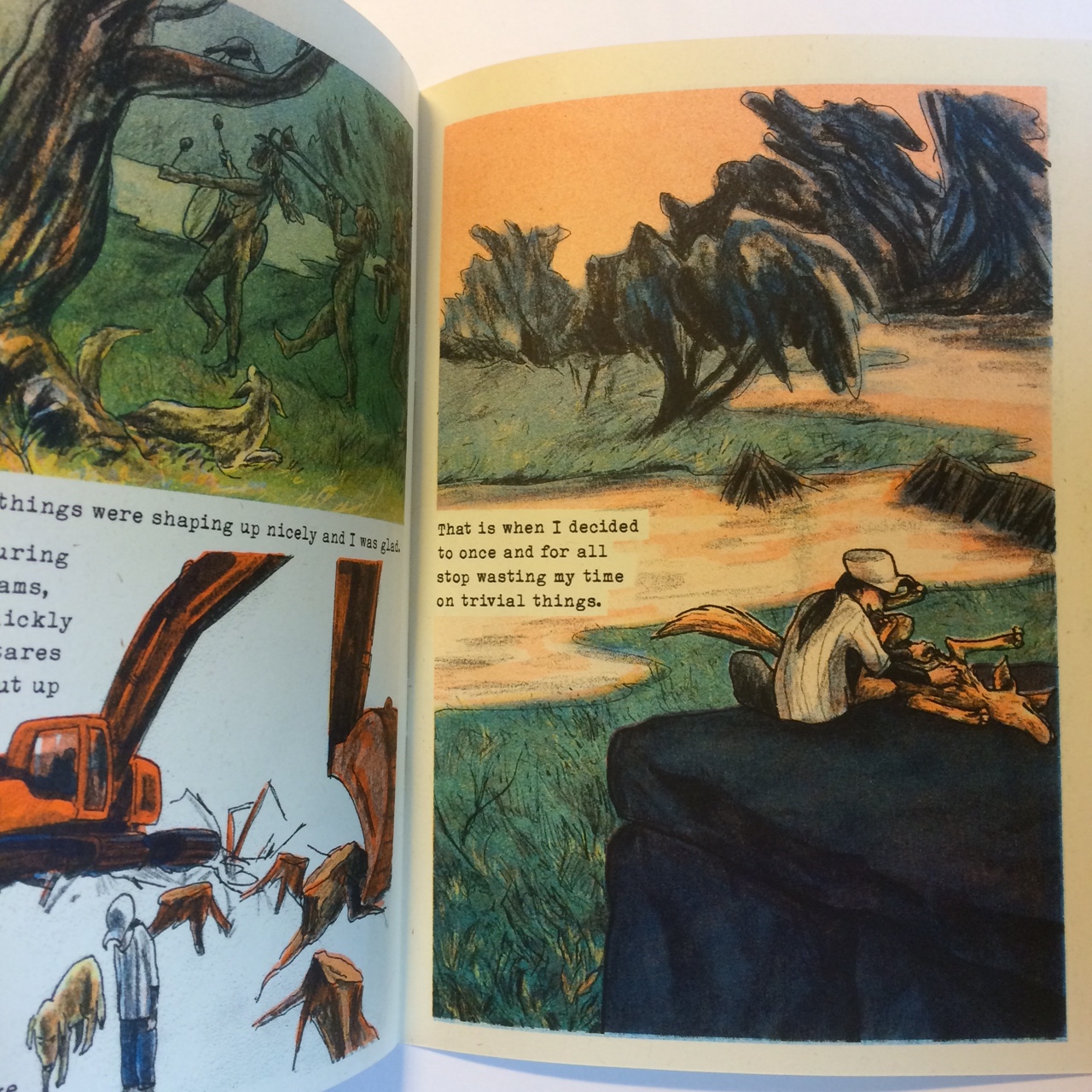 ---
SSA-VAS Open
I'm delighted to have a piece, 'The mask maker', in this year's show of the Society of Scottish Artists and Visual Arts Scotland,
'Open'
The exhibition is well worth a look! You might also find some of my gouache drawings in the browsers... It's on at the Royal Scottish Academy building on the Mound, Edinburgh, until the 30 January 2020
---
Utopia - What's Yours?
An Exhibition by the Society of Scottish Artists (SSA) One of my prints is included in this exhibition at the
Kirkcudbright Galleries.
The exhibition was previously displayed at Gracefield Art Centre. The show is on until the 1 March 2020.
---
Talk at ECA
On the 15th of November I was at Edinburgh college of Art to talk about my practise for the illustration students. It was great fun! Preparing for a talk is always a good opportunity to have a look at older pieces of work, take a moment to think about what I do and clarify my thoughts. Here is a link to ECA illustration's instagram (and a daft picture of me)
︎
---
First riso zine
In disguise, my first risograph zine is there!
Out of the blueprint
have done an amazing job (and they have a few in stock if you want to buy one).
I'm already working on the next one.
---
Edinburgh College of Art
I recently started teaching life drawing at Edinburgh college of Art. Teaching 4th year illustration students is super interesting and stimulating. I look forward to seeing what they'll put on the page! I love teaching life drawing and this is an exiting new place to do so.
---
Utopia - What's yours

AT GRACEFIELD ARTS CENTRE, THEN KIRKCUDBRIGHT GALLERIES.31 August – 2 November 2019 I have got a piece in this group show, alongsde so many interesting artists. Go and have a look if you're in the area.
---
Risograph!
Is a lot of fun. I've just been at the Out of the blueprint 2 colours riso workshop, and there'sdefinitely going to be more!
Here is my 2 colours pterosaur (called 'Eleven')
The New Edinburgh Printmakers

Edinburgh Printmakers is in their new beautiful premices. I'm teaching there once again in June
---


I just joined the Sculpture Workshop

And used their big kiln to fire
these masks.
My very own terracota army of birds.
---

Artist Book Market
at the Fruitmarket Gallery

9 and 10 February 2019, 11am to 6pm It's that time of year again!
I will be sharing a table with the great
Catherine Hiley
at the Artist Bookmarket on Saturday 9 and Sunday 10 February at the Fruitmarket.
Come and say Hi.
I will be showing handmade books and zines (including 2 new screenprinted books), and there will be tons of things to look at and discover made by more than 40 exhibitors.
I'm looking forward to seeing you there!
---
Society of Scottish Artists
Annual exhibition

23 December 2018-17 January 2019 Edinburgh's Royal Scottish Academy.
Two of my prints are part of this year's exhibition.
Installation, video and performance art are set alongside a strong core of painting, printmaking, and sculpture resulting in a dynamic, forward-thinking, courageous exhibition featuring established and new artists based in Scotland and internationally.
The exhibition will present works by over 180 artists selected from an open call alongside a curated selection of invited artists.
---
Subtle/Dazzle,
Winter Show at the Sutton Gallery

18a Dundas Street, Edinburgh
Until January
A few of my prints are on the walls of the Sutton Gallery for their winter show. The theme is 'Colour'. Go and have a look if you want to escape the grey of the streets.